Social Capital and the U.S. College Experiences of International Student-Athletes and Non-Athletes
Keywords:
athletes, college, international students, social capital, student experience
Abstract
This study shifts the tendency to focus on international students' negative experiences of undertaking education in a host country to a group that enjoys an elevated level of support. By looking at international student-athletes compared with non-athletes, it is shown how the former group experiences the benefits of social capital. Insights relating to international student-athletes in the US reveal strong and ongoing support from coaches and teammates. It is shown that international student-athletes have far greater support structures compared with international non-athletes. In doing so, this study presents a new perspective to debates on what higher education institutions in host countries can do to support their international student populations.
References
Bale, J. (1987). Alien student-athletes in American higher education: locational decision making and sojourn abroad. Physical Education Review, 10(2), 81-93.
Bale, J. (1991). The brawn drain: Foreign student-athletes in American universities. Urbana, IL: University of Illinois Press.
Bourdieu, P. (1986). The forms of capital. In J. Richardson (Ed.), Handbook of theory and research for the sociology of education (pp. 241-258). Ithaca: Greenwood Press.
Bowen, W.G., & Levin, S.A. (2003). Reclaiming the game: College sports educational values. Princeton, NJ: Princeton University Press.
British Council (2012). The rise in student safety concerns. London: Education Intelligence.
Cho, J., & Yu, H. (2015). Roles of university support for international students in the United States: Analysis of a systematic model of university identification, university support, and psychological well-being. Journal of Studies in International Education, 19, 11-27.
Clopton, A. (2010). The impact of intercollegiate athletic participation upon sense of community across multiple levels of competition. International Journal of Sport Management, 12(3), 440-456.
Coleman, J.S. (1988). Social capital in the creation of human capital. American Journal of Sociology, 94(Supplement: Organizations and Institutions), 95-120.
Comeaux, E. & Harrison, K.C. (2011). A conceptual model of academic success for student-athletes. Educational Researcher, 40(5), 235-245.
Das, R. (2004). Social capital and poverty of the wage-labour class: Problems with social capital theory. Transactions of the Institute of British Geographers, 29(1), 27-45.
Elling, A., & Claringbould, I. (2005). Mechanism of inclusion and exclusion in the Dutch sports landscape: Who can and wants to belong? Sociology of Sport Journal, 22(4), 498-515.
Etzel, E., Watson, J.C., Visek, A.J., & Maniar, S.D. (2006). Understanding and promoting college student-athlete health: Essential issues for student affairs professionals. NASPA Journal, 43(3), 518-546.
Ferris, E., Finster, M., & McDonald, D. (2004). Academic fit for student-athletes: An analysis of
NCAA division I-A graduation rates. Research in Higher Education, 45, 555-575.
Field, J. (2003). Social capital. London: Routledge.
Fink, J., Pastore, D., & Riemer, H. (2001). Do differences make a difference? Managing diversity in Division IA intercollegiate athletics. Journal of Sport Management, 15(1), 10-50.
Forbes-Mewett, H., & Sawyer, A-M. (2016) International students and mental health. Journal of
International Students, 6(3), 661-677.
Forbes-Mewett, H. (2011). International education preparation: Minimising risk and furthering security. International Journal of Contemporary Sociology, 48(1), 61-92.
Forbes-Mewett, H., Marginson, M., Nyland, C., Ramia, G., & Sawir, E. (2009). Australian university international student finances. Higher Education Policy, 22(2), 141-161.
Forbes-Mewett, H., McCulloch, J., & Nyland, C. (2015). International students and crime. Houndmills: Palgrave Macmillan.
Forbes-Mewett, H., & Nyland, C. (2008). Cultural diversity, relocation and the security of international students at an internationalised university. Journal of Studies in International Education, 12(2), 181-203.
Forbes-Mewett, H., & Nyland, C. (2013). Funding international student services: Tension and power in the university, Higher Education, 65(2), 181-192.
Gayles, J. L. (2009). The student athlete experience. New Directions for Institutional Research, 144(Winter), 33-41.
Gershon, W.S. (2012). Troubling notions of risk: Dissensus, dissonance, and making sense of students and learning. Critical Studies in Education, 53(3), 361-373.
Glass, C.R., & Gesing, P. (2018). The development of social capital through international students' involvement in campus organizations. Journal of International Students, 8(3), 1274-1292.
Harrison, C., Stone, J., Shapiro, J., Yee., Boyd, J., & Rullan, V. (2009). The role of gender identities and stereotype salience with the academic performance of male and female college athletes. Journal of Sport and Social Issues, 33(1), 78-96.
Hastie, B., & Rimmington, D. (2014). '200 years of white affirmative action': White privilege discourse in discussions of racial inequality. Discourse & Society, 25(2), 186-204.
Hendrickson, B., Rosen, D., & Aune, R.K. (2011). An analysis of friendship networks, social connectedness, homesickness, and satisfaction levels of international students. International Journal of Intercultural Relations, 35(3), 281-295.
Jacobs, D., & Tillie, J. (2004). Introduction: Social capital and political integration of migrants. Journal of Ethnic and Migration Studies, 30(3), 419-427.
Lee, J., & Rice, C. (2007). Welcome to America? International student perceptions of discrimination. Higher Education, 53(3), 381-409.
Lewis, A. E. (2004). "What group?" Studying whites and whiteness in the era of "color-blindness." Sociological Theory, 22(4), 623-646.
Lubker, J.R., & Etzel, E.F. (2007). College adjustment experiences of first-year students: Disengaged athletes, nonathletes, and current varsity athletes. NASPA Journal, 44(3), 457-480.
Luo, J., & Jamieson-Drake, D. (2013). Examining the educational benefits of interacting with international students. Journal of International Students, 3(1), 85-101.
Luo, J., & Jamieson-Drake, D. (2015). Predictors of study abroad intent, participation, and college outcomes. Research in Higher Education, 56(1), 29-56.
Marginson, S., Nyland, C. Sawir, E., & Forbes-Mewett, H. (2010). International student security. Cambridge University Press, Cambridge.
Neri, F., & Ville, S. (2008). Social capital renewal and the academic performance of
international students in Australia. Journal of Socio-Economics, 37(4), 1515-1538.
Parry, G., McLeod, J., Hockings, C., & Kenway, J. (2011). A conversation on mobility, aspiration and voice. Critical Studies in Education, 52(2), 207-212.
Perks, T. (2007). Does sport foster social capital? The contribution of sport to a lifestyle of community participation. Sociology of Sport Journal, 24(4), 378-401.
Pierce, D., Popp, N., & Meadows, B. (2011). Qualitative analysis of international
student-athlete perspectives on recruitment and transitioning into American
college sport, The Sport Journal, 14(1).
Popp, N., Love, A.W., Kim, S., & Hums, M. (2010). Cross-cultural adjustments and international collegiate athletes. Journal of Intercollegiate Sport, 3, 163-181.
Portes, A. (2000). The two meanings of social capital. Sociological Forum, 15(1), 1-12.
Potuto, J.R., & O'Hanlon, J. (2007). National study of student-athletes regarding their experiences as college students. College Student Journal, 41(4), 947-966.
Ranson, S. (2012). Schools and civil society: corporate and community governance. Critical Studies in Education, 53(1), 29-45.
Ridinger, L., & Pastore, D. (2000). International student-athlete adjustment to college: a preliminary analysis. NACADA Journal, 20(1), 33-41.
Rienties, B., & Nolan, E.M. (2014). Understanding friendship and learning networks of international and host students using longitudinal Social Network Analysis. International Journal of Intercultural Relations, 41, 165-180.
Rose-Redwood, C.R., & Rose-Redwood, R.S. (2013). Self-segregation or global mixing? Social interactions and the international student experience. Journal of College Student Development, 54(4), 413-429.
Schuller, T., Baron, S., & Field, J. (2000). Social capital: A review and critique. In S. Baron, J. Field and T. Schuller (Eds.) Social capital: Critical perspectives (pp. 1-38). Oxford: Oxford University Press.
Sprague, J. (2005). Feminist methodologies for critical researchers. Walnut Creek, CA: AltaMira Press.
Strauss, A., & Corbin, J. (1990). Basics of qualitative research: Grounded theory procedures and techniques. Boston: Kluwer Academic.
Thelin, J. (1994). Games colleges play: Scandal and reform in intercollegiate athletics. Baltimore: John Hopkins University Press.
Umbach, P., Palmer, M., Kuh, G., & Hannah, S. (2006). Intercollegiate athletics and effective educational practices: winning combination or losing effort? Research in Higher Education, 47(6), 709-733.
Ward, C., Bochner, S., & Furnham, A. (2001). The psychology of culture shock (2nd ed.). East Sussex: Routledge.
Wolf-Wendel, L., Toma, J, & Morphew, C. (2001). There's no "I" in "team": Lessons from athletics in community building. The Review of Higher Education, 24(4), 369-396.
Woolcock, M., & Narayan, D. (2000). Social capital: Implications for development theory, research and policy. World Bank Research Observer, 15(2), 225-249.
Yan, Z. & Sendall, P. (2016). First year experience: How we can better assist international students in higher education. Journal of International Students, 6(1), 35-51.
Yee, A. (2016). The unwritten rules of engagement: Social class differences in undergraduates' academic strategies. The Journal of Higher Education, 87(6), 831-858.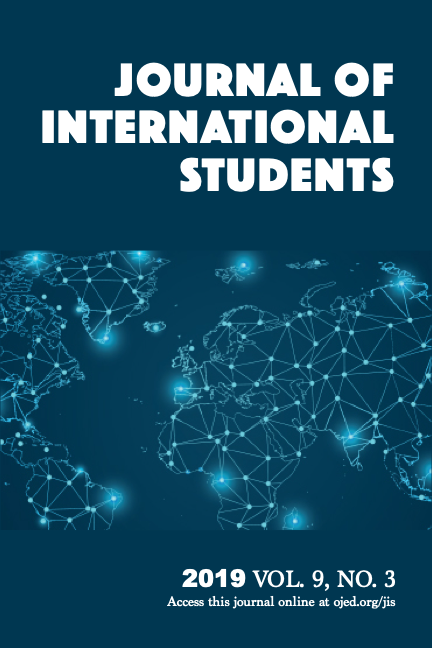 Downloads
How to Cite
Forbes-Mewett, H., & Pape, M. (2019). Social Capital and the U.S. College Experiences of International Student-Athletes and Non-Athletes. Journal of International Students, 9(3), 777–794. https://doi.org/10.32674/jis.v9i3.772
Section
Research Articles