International Students and Mental Health
Keywords:
international students, youth, mental health, healthcare, integration and adjustment, higher education
Abstract
Since the early 2000s, reports of increased rates of mental ill health among young people worldwide have received much attention. Several studies indicate a greater incidence of mental health problems among tertiary students, compared with the general population, and higher levels of anxiety, in particular, among international students compared with domestic students. Australia is host to many thousands of international students of an age when mental illnesses are most likely to surface. However, this issue has received little attention from Australian researchers. This article reports on in-depth interviews with 16 professionals working with international students at an internationalized university.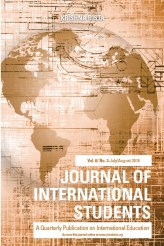 Downloads
How to Cite
Forbes-Mewett, H., & Sawyer, A.-M. (2016). International Students and Mental Health. Journal of International Students, 6(3), 661–677. https://doi.org/10.32674/jis.v6i3.348
Section
Research Articles