Unfulfilled Expectations: Influence of Chinese International Students' Roommate Relationships on Sense of Belonging
Keywords:
Chinese students, international students, roommate relationships, sense of belonging, residence life
Abstract
Findings from this study indicate that more attention must be given to Chinese students' interpersonal relationships with domestic students, particularly when considering the role of daily cross-cultural interactions in residential living. Participants who wanted American roommates anticipated an easier transition to U.S. culture. However, making meaningful connections with American students proved to be more challenging than anticipated. Participants reported that cultural differences within their residence hall room led to difficulty with communication and social connections.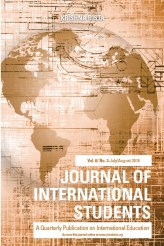 Downloads
How to Cite
Yao, C. W. (2016). Unfulfilled Expectations: Influence of Chinese International Students' Roommate Relationships on Sense of Belonging. Journal of International Students, 6(3), 762–778. https://doi.org/10.32674/jis.v6i3.355
Section
Research Articles