International Students' Views on Local Culture: Turkish Experience
Keywords:
Turkish culture, international students, perception, gender, religion, nationality
Abstract
The number of international students in Turkey has steadily increased in recent years. As they come from different geographical locations, their successful adaptation to a medium-sized country in-between three continents is of great interest. This study was conducted to investigate international students' perceptions of their Turkish experience. After an interview with 9 international students, a 46-item questionnaire was developed and given to 421 students; of these, 319 students from 61 countries returned complete forms. Responses were generally positive, although some difficulties according to gender, religion or age were reported. Another 12 students' written comments were compared with quantitative data. Implications are suggested as well as directions for further research.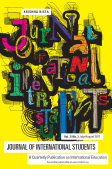 Downloads
How to Cite
Çetin, Y., Bahar, M., & Griffiths, C. (2017). International Students' Views on Local Culture: Turkish Experience. Journal of International Students, 7(3), 467–485. https://doi.org/10.32674/jis.v7i3.204
Section
Research Articles