Leveraging Common Ground: Improving International and Domestic Students' Interaction Through Mutual Engagement
Keywords:
collaboration, common grounds, cross-cultural learning, engagement, mutuality
Abstract
Leading institutional pedagogies and practices tend to approach increasing international student populations from a deficit-based model, which focuses on the adaptation, acculturation, and assimilation of international students to the dominant host culture. We believe a better approach to improve international and domestic students' interaction is to move to models of mutual engagement. In this article, as practitioners, we explore four common grounds that seem to be producing positive engagements: common experience, cultural celebrations, faith, and common challenges, in which students are encouraged to meaningfully engage with each other as equals in a spirit of mutuality. The resulting discussion explores how each contributes to a culture of collaboration within institutional departments while improving and enriching the interactions between all students.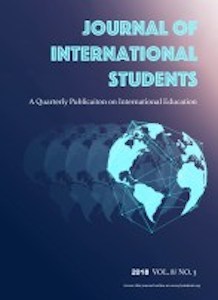 Downloads
How to Cite
Thomas, V., Ssendikaddiwa, J. M., Mroz, M., Lockyer, K., Kosarzova, K., & Hanna, C. (2018). Leveraging Common Ground: Improving International and Domestic Students' Interaction Through Mutual Engagement. Journal of International Students, 8(3), 1386–1397. https://doi.org/10.32674/jis.v8i3.61
Section
Research Articles