International Student Spouses and the English Language
Co-Creating a Low Stakes Language Learning Community
Keywords:
international mobility, international student spouses, internationalization of higher education, language learning
Abstract
In the context of the internationalization of U.S. higher education, millions of international students have come to study at U.S. institutions. Some students, particularly those pursuing advanced degree, bring their spouses. As part of a larger study, we set out to examine the experiences of international student spouses at a Midwestern university. This article examines the experiences from the perspective of grappling with the English language, a theme cross-cutting through spouses' experiences. Experiences with English, the focus of this article, are both a discrete element of spouses' lived experiences and a useful way to understand challenges and opportunities not directly related to language. Utilizing qualitative case study techniques, we found that English language is experienced through anxieties as well as ambitions by the participants in our study. 
References
Anderson, V. (2008, December). Re-imagining 'interaction' and 'integration': Reflections on a university social group for international and local women. Paper presented at the 19th ISANA International Education Association Conference, Auckland, New Zealand.
Bordoloi, S. D. (2015). I am standing still: The impact of immigration regulations on the career aspirations of wives of international students in the USA. Journal of International Migration and Integration, 16(3), 607–624.
Brandenburg, U., & Wit, H. D. (2015). The end of internationalization. International Higher Education, (62), 15–17. doi:10.6017/ihe.2011.62.8533
Berry, J. W. (1997). Immigration, acculturation, and adaptation. Applied Psychology: An International Review, 46(1), 5–34. doi:10.1111/j.1464-0597.1997.tb01087.x
Campbell, K., & Prins, E. (2016). Taking initiative and constructing identity: International graduate student spouses' adjustment and social integration in a rural university town. International Journal of Lifelong Education, 35(4), 430–447.
Chen, L. (2009). Negotiating identity between career and family roles: A study of international graduate students' wives in the US. International Journal of Lifelong Education, 28, 211–226.
Creswell, J. W., & Miller, D. L. (2000). Determining validity in qualitative inquiry. Theory Into Practice, 39(3), 124–130.
Cui, D., Arthur, N., & Domene, J. F. (2017). Accompanying partners of international students: Reflections on three issues. Canadian Journal of Higher Education, 47(1), 171–190.
De Verthelyi, R. F. (1995). International students' spouses: Invisible sojourners in the culture shock literature. International Journal of Intercultural Relations, 19(3), 387–411.
Doyle, S., Loveridge, J., & Faamanatu-Eteuati, N. (2016). Counting family: Making the family of international students visible in higher education policy and practice. Higher Education Policy, 29(2), 184–198.
Farrugia, C. A., & Bhandari, R. (2015). Open doors 2015: Report on international education exchange. New York, NY: Institute for International Education.
Hirai, R., Frazier, P., & Syed, M. (2015). Psychological and sociocultural adjustment of first-year international students: Trajectories and predictors. Journal of Counseling Psychology, 62(3), 438.
Horwitz, E. (2001). Language anxiety and achievement. Annual Review of Applied Linguistics, 21, 112–126. doi:10.1017/s0267190501000071
Institute of International Education. (2018). International student enrollment trends, 1948/49-2017/18. Retrieved from https://www.iie.org/research-and-insights/open-doors/data/international-students/enrollment
Johnson, D. M. (1999). Different expectations: An ethnography of an adult ESL program for a university -linked international population (doctoral dissertation). Retrieved from ProQuest Dissertations & Theses database. (UMI No. 9952106)
Knight, J. (2015). Five myths about internationalization. International Higher Education, 62, 14–15. doi:10.6017/ihe.2011.62.8532
Krueger, R. A., & Casey, M. A. (2014). Focus groups: A practical guide for applied research. Thousand Oaks, CA: Sage.
Lei, D., Woodend, J. D., Nutter, S. K., Ryan, A. R., & Cairns, S. L. (2015). The forgotten half: Understanding the unique needs of international student partners. Journal of International Students, 5(4), 447–458.
MacIntyre, P. D., Baker, S. C., Clément, R., & Conrod, S. (2001). Willingness to communicate, social support, and language-learning orientations of immersion students. Studies in Second Language Acquisition, 23(3), 369–388.
Martens, V. P., & Grant, P. R. (2008). A needs assessment of international students' wives. Journal of Studies in International Education, 12(1), 56–75.
Merriam, B. (1998). Qualitative research and case study applications in education. San Francisco, CA: Jossey-Bass.
Montgomery, C. (2010). Understanding the international student experience. New York, NY: Palgrave Macmillan.
Montgomery, C., & McDowell, L. (2009). Social networks and the international student experience: An international community of practice? Journal of Studies in International Education, 13(4), 455–466.
Mwale, S., Alhawsawi, S., Sayed, Y., & Rind, I. A. (2018). Being a mobile international postgraduate research student with family in the United Kingdom: Conflict, contestation and contradictions. Journal of Further and Higher Education, 42(3), 301–312.
Myers-Walls, J. A., Frias, F., Kwon, K. A., Ko, M., & Lu, T. (2011). Living life in two worlds: Acculturative stress among Asian international graduate student parents and spouses. Journal of Comparative Family Studies, 42, 455–478.
Pillow, W. (2003). Confession, catharsis, or cure? Rethinking the uses of reflexivity as methodological power in qualitative research. International Journal of Qualitative Studies in Education, 16(2), 175–196. doi:10.1080/0951839032000060635
Sipe, L. & Constable, S. (1996). A chart of four contemporary research paradigms: Metaphors for the modes of inquiry. Taboo, Journal of Culture and Education, 1(Spring), 153–163.
Soria, K. M., & Troisi, J. (2013). Internationalization at home alternatives to study abroad: Implications for students' development of global, international, and intercultural competencies. Journal of Studies in International Education, 18(3), 261–280. doi:10.1177/1028315313496572
Stake, R. E. (1995). The art of case study research. Thousand Oaks, CA: Sage.
Swain, M. (2000). The output hypothesis and beyond: mediating acquisition through collaborative dialogue. In J. P. Lantolf (Ed.), Sociocultural theory and second language learning (pp. 97–114). Oxford, UK: Oxford University Press.
Teshome, Y., & Osei-Kofi, N. (2011). Critical issues in international education: Narratives of spouses of international students. Journal of Studies in International Education, 16, 62–74.
Tukibayeva, M., & Gonyea, R. M. (2014). High-impact practices and the first-year student. New Directions for Institutional Research, 2013(160), 19–35. doi:10.1002/ir.20059
Urias, D. (2005). Empowering the disenfranchised: Supporting spouses of international students and scholars. International Educator, 14(2), 42.
Weger, H. D. (2013). Examining English language learning motivation of adult international learners studying abroad in the US. RELC Journal, 44(1), 87–101.
Yin, R. K. (2009). Case study research: design and methods. London: Sage.
Yellig, A. (2011). The experiences of married international graduate students and their accompanying non-student spouses in the US culture: A qualitative study (doctoral dissertation). ScholarWorks, Kalamazoo, MI.
Zhang, J., Smith, S., Swisher, M., Fu, D., & Fogarty, K. (2011). Gender role disruption and marital satisfaction among wives of Chinese international students in the United States. Journal of Comparative Family Studies, 42, 523–542.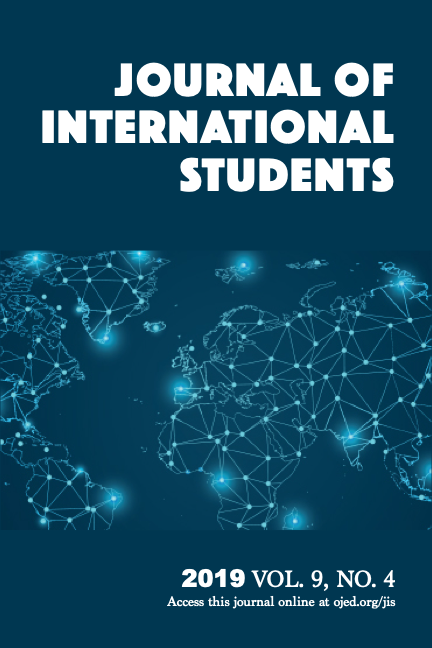 Downloads
How to Cite
Grimm, A. T., Kanhai, D., & Landgraf, J. (2019). International Student Spouses and the English Language: Co-Creating a Low Stakes Language Learning Community. Journal of International Students, 9(4), 1172–1190. https://doi.org/10.32674/jis.v9i4.583
Section
Research Articles