Peers to Peers: Developing a Student-Coordinated Conversation Partner Program
Keywords:
collaboration, communication, conversation partner program, culture, friendship, student-coordinated
Abstract
The lack of meaningful interaction between domestic and international students is a persistent concern in international higher education. Conversation partner programs are a promising measure to promote the rich and repeated contact necessary for the development of intercultural relationships and communication skills. This article describes the process of launching and managing a successful student-coordinated conversation partner program with no or minimal funding. The five core team members (two faculty advisors and three student leaders) explain why they created or joined the program, their responsibilities, what worked, what was challenging, and what they recommend should other institutions want to start a similar program.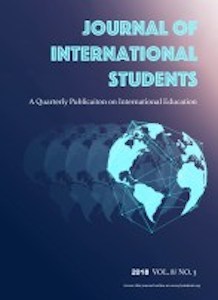 Downloads
How to Cite
Aaron, R., Cedeño, C., Gareis, E., Kumar, L., & Swaminathan, A. (2018). Peers to Peers: Developing a Student-Coordinated Conversation Partner Program. Journal of International Students, 8(3), 1316–1327. https://doi.org/10.32674/jis.v8i3.55
Section
Research Articles