Knowledge, Education, and Attitudes of International Students to IELTS: A Case of Australia
Keywords:
international students, IELTS test, Language and education, language attitudes
Abstract
The main objective of this study is to determine the knowledge, education and attitudes of Chinese, Indian and Arab speaking students in Australia towards the International English Language Testing System (IELTS) test. A questionnaire was administered to 200 students at six university language centers to investigate their overall response towards the four components of the IELTS test i.e. listening, reading, writing, and speaking. It was hypothesized that having positive or negative attitudes toward a certain language can exert considerable effect on the learners' performance on a language test. The effect of variables such as testing environment, test rubric, and broader demographic factors on attitudes of the three national groups were investigated. Significant differences were found on students' misconceptions of language learning, motivation and the degree to which it may have hindered their progress in attaining language skills.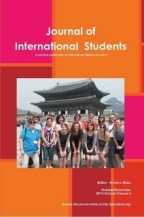 Downloads
How to Cite
Ata, A. W. (2015). Knowledge, Education, and Attitudes of International Students to IELTS: A Case of Australia. Journal of International Students, 5(4), 488–500. https://doi.org/10.32674/jis.v5i4.410
Section
Research Articles