White Evangelical Christian Ideology and the Construction of Whiteness
Lessons for Educators
Keywords:
Antiracist Pedagogy, Teacher Education, Education, Christianity, Black Liberation Theology
Abstract
In this manuscript, we revisit data from a 9-month ethnographic study that examined whiteness in early childhood. Specifically, the study explored the epistemological and ontological reality of three young white children and how they learned to conflate ethnocentric love with whitewashed justice through the lens of their religious upbringing. We theorize how such epistemological and ontological realities of religious ideologies potentially shape the pedagogies of educators who identify themselves as white Evangelical Christians (a demographic that represents over one-third of the total teaching force in the United States). Finally, we suggest how learning from black theologies could offer a way to expand notions of biblical love and justice to encompass those that are rooted in agency, social justice, and explicit attention to systematic oppression.
Downloads
Download data is not yet available.
References
Baghban, M. (2014). Looking backward in order to look forward: The enduring contribution of parent research. In B. Kabuto & P. Martens (Eds.), Linking families, learning and schooling: Parent researcher perspectives. Routledge.
Baldwin, J. (1984). Notes of a native son (Vol. 39). Beacon Press.
Brown, S. A. (1933). Negro character as seen by white authors. Journal of Negro Education, 179-203.
Blum, E. J., & Harvey, P. (2012). The color of Christ: The Son of God and the saga of race in America. UNC Press Books.
Casey, Z., McManimon, S., Lozenski, B., & Lensmire, T. (2013). In A. Doolin & K. Sealey
(Eds.) Encyclopedia of race and racism. (pp. 274-280). Macmillan Reference USA.
Cone, Albert B. (1968). The Black Messiah. Sheed and Ward.
Cone, J. H. (1986/2019). A black theology of liberation, 4th Anniversary Edition. Orbis Books.
DiAngelo, R. (2018). White fragility: Why it's so hard for white people to talk about racism. Beacon Press.
DuBois, W. E. B. (1920/2017). Dusk of dawn!: An essay toward an autobiography of race concept. Routledge.
Ellison, R. (1970). What America would be like without Blacks. Going to the Territory, 104-12.
Garvey, J., & Ignatiev, N. (Eds.). (1996). Race traitor. Routledge.
Grbich, C. (2012). Qualitative data analysis: An introduction. Sage.
Flynn, J. (2016). White fatigue: Rethinking white resistance in the post-Obama era. Peter Lang Publishing.
Geiger, A. (2018). America's public school teachers are far less racially and ethnically diverse than their students. Pew Research Center.
Haddix, M. (2014). Preparing teachers to teach other people's children while homeschooling your own: One black woman scholar's story. In B. Kabuto & Martens (Eds), Linking families, learning and schooling: Parent researcher perspectives: Routledge.
Harvey, J. (2011). Which way to justice? Reconciliation, Reparations and the Problem of Whiteness in US Protestantism. Journal of the Society of Christian Ethics, 31, 1, pp. 57-77.
hooks, b. (1990). Yearning: Race, gender, and cultural politics. South End Press.
Horne, G. (2014). The counter-revolution of 1776: Slave resistance and the origins of the United States of America. New York University Press.
Institute of Educational Sciences (IES). (2020). Characteristics of public and private elementary and secondary school teachers in the United States: Results from the 2017–18 national teacher and principal survey. U.S. Department of Education. https://nces.ed.gov/pubs2020/2020142.pdf
Johnson, L., Bryan, N., & Boutte, G. (2018). Show Us the Love: Revolutionary Teaching in (Un)Critical Times. The Urban Review, 51(1), 46–64.
Kendi, I. (2016). Stamped from the beginning: the definitive history of racist ideas in America. Nation Books.
Kishimoto, K. (2018). Anti-racist pedagogy: from faculty's self-reflection to organizing within and beyond the classroom. Race Ethnicity and Education, 21(4), 540-554.
Kowlessar, J. (2019). Don't leave the neighbor out of the hood: reversing the mis-education of the Seventh-day Adventist. Watersprings Media House
Long, S. (2004. Passionless text and phonics first. Through a child's eyes. Language Arts, 81(5), 62-70.
Lopez, R. & Lopez, K.A. [composers] (2013). Do you want to want to build a snowman? Wonderland Music Company.
Love, B. (2019). We want to do more than survive: abolitionist teaching and the pursuit of educational freedom. Beacon Press.
Martens, P. (1996). I already know how to read: A child's view of literacy. Heinemann.
Matias, C. E. (2013). On the" flip" side: A teacher educator of color unveiling the dangerous minds of white preservice teachers. Teacher Education Quarterly, 40(2), 53-73.
Morrison, T. (1994). Playing in the dark: Whiteness and the literary imagination. Vintage.
Morrison, T. (1998, January 19). Interview by C. Rose [Web Based Recording]. An hour with Nobel prize winner Toni Morrison. http://www.charlierose.com/view/interview/5135.
Northeast SDA (2020). February 8th 2020 Sabbath Service [Video file]. Vimeo. https://vimeo.com/390194500?ref=fb-share&fbclid=IwAR3ZAiqgsy5-ghRlCZOSs_AtKLP_5_n2k-BnYdQw_JEzXQbfMWjAO6hcedA
Nest Entertainment (1988).
Hyland, N. E. (2005). Being a good teacher of Black students? White teachers and unintentional racism. Curriculum Inquiry, 35(4), 429–459.
Pi Delta Kappan (2019). Frustration in the Schools: Teachers speak out on pay, funding and feeling valued. https://pdkpoll.org/assets/downloads/2019pdkpoll51.pdf
Rich, R. [Director]. (1988). He is Risen [Amazon Prime Video]. Nest Entertainment
Ruether, R. R (2012). Is Christ white? Racism and Christology. In Yancy, G. (Ed). Christology and whiteness: What would Jesus do? Routledge.
Sales, R. (2016). Where does it hurt? On Being with Kristi Tippet. https://onbeing.org/programs/ruby-sales-where-does-it-hurt/
Smith, L. (1949). Killers of the dream. W.W. Norton & Company.
Smith, Christian. (1996). Disruptive religion: The Force of Faith in Social Movement Activism. Routledge.
Spanierman, L. B., & Cabrera, N. L. (2015). The emotions of White racism and antiracism. Unveiling Whiteness in the 21st century: Global manifestations, transdisciplinary interventions, 9-28.
Thandeka. (1999). Learning to be white: Money, race, and God in America. Continuum.
Thompson, A. (1997). For: Anti‐Racist Education. Curriculum Inquiry, 27(1), 7-44.
Tisby, J. (2019). The color of compromise: The truth about the American church's complicity in racism. Zondervan.
Townes, E. M. (2006). Womanist ethics and the cultural production of evil. Palgrave MacMillan.
Townes, E. (2006). Womanist theology. In Keller, R. S., Ruether, R. R., & Cantlon, M. (Eds.). Encyclopedia of women and religion in North America: women and religion: methods of study and reflection (Vol. 1). Indiana University Press, pp. 1165-1172.
Thompson, A. (2003). Tiffany, friend of people of color: White investments in antiracism. International Journal of Qualitative Studies in Education, 16(1), 7-29.
Turman, E.M (2019). Black women's faith: Black women's flourishing. The Christian Century. https://www.christiancentury.org/article/critical-essay/black-women-s-faith-black-women-s-flourishing
Walker, A. (1983). In Search of Our Mothers' Gardens. Pub. In.
Wright, R. (1945/1998). Black boy. Harper Collins
Yancy, G. (Ed). Christology and whiteness: What would Jesus do? Routledge.
Wells, I.B. (1892). Southern horrors lynch law in all its phases. The New York Age Print.
Zamalin, A. (2019). Antiracism: An introduction. NYU Press.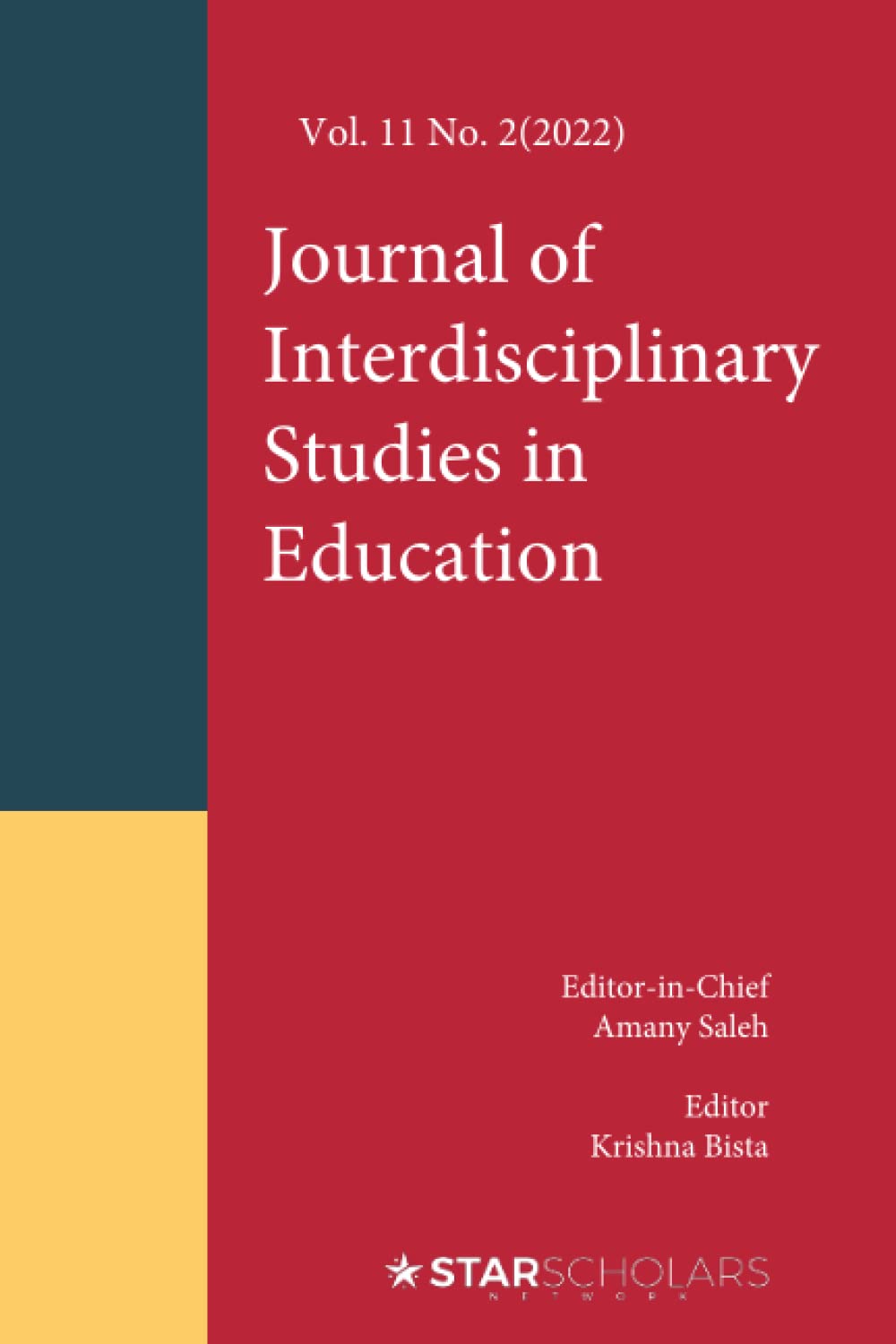 Downloads
Additional Files
How to Cite
Miller, E., Tanner, S., Willis, R. E. ., & Hancock, S. (2022). White Evangelical Christian Ideology and the Construction of Whiteness: Lessons for Educators . Journal of Interdisciplinary Studies in Education, 11(2), 22–44. Retrieved from https://ojed.org/index.php/jise/article/view/4567
License
Copyright (c) 2022 Erin Miller
This work is licensed under a Creative Commons Attribution-NonCommercial-NoDerivatives 4.0 International License.