Principal Candidates' Sense of Efficacy: Can They Lead During a Pandemic?
Keywords:
crisis, efficacy, equity, leadership, teacher, pandemic, principal
Abstract
Principal candidates' sense of self-efficacy is critical for their professional development. Analysis of a self-efficacy survey provided the authors with valuable insights into areas needed for program development. The purpose of this research-based essay is to report on data analysis results learned about the self-efficacy of 10 school leadership students during a summer principalship course. These results provide information about implications as well as specific suggestions for leadership program improvement related to crisis situations. 
Downloads
Download data is not yet available.
References
Abernathy, D. (2018). Addressing skills, knowledge and self-efficacy in the online development of school leaders. Journal for the Advancement of Educational Research International, 12(1), 47-57.
Bandura, A. (1994). Self-efficacy. In V. S. Ramachandran (Ed.), Encyclopedia of human behavior (Vol. 4, pp. 71-81). New York: Academic Press. (Reprinted in H. Friedman [Ed.], Encyclopedia of mental health. San Diego: Academic Press, 1998). https://www.uky.edu/~eushe2/Bandura/BanEncy.html
Centers for Disease Control and Prevention (CDC). Retrieved July 21, 2020, from https://www.cdc.gov/coronavirus/2019-ncov/cases-updates/cases-in-us.html
Map: Coronavirus and School Closures (2020, March 6). Education Week. Retrieved July 21, 2020, from https://www.edweek.org/ew/section/multimedia/map-coronavirus-and-school-closures.html
North Carolina Department of Public Instruction (2013). North Carolina standards for school executives. Retrieved July 20, 2020, from https://files.nc.gov/dpi/north_carolina_standards_for_school_executives_1.pdf
Smith, L., & Riley, D. (2012). School leadership in times of crisis. School Leadership & Management, 32(1), 57-71.
Tschannen-Moran, M. (n.d.). Principal Questionnaire. https://wmpeople.wm.edu/asset/index/mxtsch/pse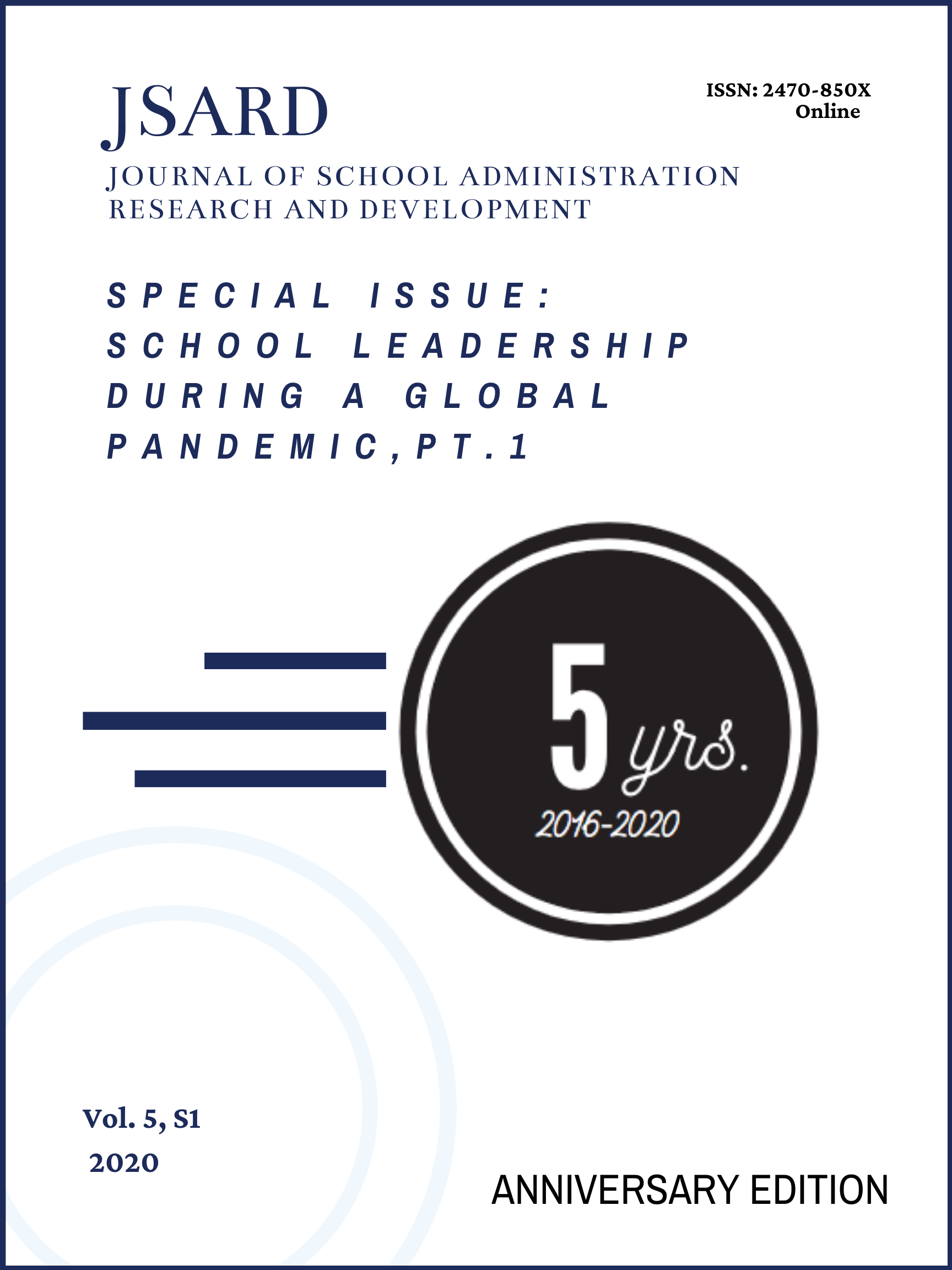 Downloads