Scholastics, Pabulum, Clans, Transformation: A Journey into Otherness
Keywords:
international students, satisfaction, identity, transformation, higher education, otherness
Abstract
International students' identities are complex and so are their needs. Semistructured interviews with 13 of the lead researcher's former students from Dubai, United Arab Emirates, who are multi-national, multi-lingual and pursuing degrees in law, business, economics, medicine, education, art and media, in the United States, United Kingdom and Australia elucidated this reality. Their experiences demonstrated scholastic and pabulum frustrations that were offset in part by constant communication with their clans in person and through various technologies. Though the current model of higher education often seeks to identify and categorize international students as a group, this study shows that international students are unique individuals. Recognizing their individuality, higher education institutions and policymakers can more appropriately respond to international students' needs.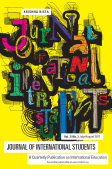 Downloads
How to Cite
Lausch, D., Teman, E., & Perry, C. (2017). Scholastics, Pabulum, Clans, Transformation: A Journey into Otherness. Journal of International Students, 7(3), 893–917. https://doi.org/10.32674/jis.v7i3.307
Section
Research Articles