Educational Quality Assurance in Thailand: To Improve Quality or to Add a Burden?
Keywords:
Quality Assurance, Higher education, Quality, Burden, Thailand
Abstract
This opinion piece considers the levels of quality assurance in Thailand.
References
Allais, S. M. (2009). Quality assurance in education. Centre for Education Policy Development.
ASEAN Community. (2017). ประชาคมเศรษฐกิจอาเซียน [ASEAN Economics Community]. https://stakeholderalliance.org
BBC News. (2018, February 5). ประกันคุณภาพการศึกษาไทย: ตัวช่วยหรือตัวถ่วง อ. มหาวิทยาลัย? [Thai educational quality assurance: A help or a hindrance for university instructors?]. BBC News ไทย. https://www.bbc.com/thai/thailand-42916401
Beerkens, M., & Udam, M. (2017). Stakeholders in higher education quality assurance: Richness in diversity? Higher Education Policy, 30(3), 341–359. https://doi.org/10.1057/s41307-016-0032-6
Chaemchoy, S., Puthpongsiriporn, T. S., & Fry, G. W. (2021). Higher education in Thailand. Oxford Research Encyclopedia of Education. https://doi.org/10.1093/acrefore/9780190264093.013.1510
Finnish National Agency for Education. (2022). Quality management in Finland. https://www.oph.fi/en/education-and-qualifications/quality-management-finland
Kaewvisit, S. (2019). ปัญหาจากระบบการศึกษาไทย: สู่‌‌‍แร‌‌‌‌‌งบั‌‌‌‌‌‍‍‍น ดาล‌‌‌‌‌‌‌‌ใจในก‌‌ารสร้างสรรค์ผลงานจิตรกรรมชุด "ให้ชีวิตได้ใช้" [Problems from the Thai education system: To be inspired in the creation of painting works under the title "Let Life to Live"]. Humanities and Social Sciences Journal, Ubon Ratchathani Rajabhat University, 12(1), 87–98. https://so01.tci-thaijo.org/index.php/humanjubru%20
/article/view/245288
Kanjanapanyakom, R. (2011). Thai experience with quality assurance. https://www.academia.edu/4299321/QA Experience in Thai Education
Leverage Edu. (2022, November 22). Why Finland education system is the best in world? https://leverageedu.com/blog/finland-education-system/
Lo, W. Y. W. (2014). Think global, think local: The changing landscape of higher education and the role of quality assurance in Singapore. Policy and Society, 33(3), 263–273. https://doi.org/10.1016/j.polsoc.2014.09.002
Ng, P. T. (2007). Quality assurance in the Singapore education system in an era of diversity and innovation. Educational Research for Policy and Practice, 6(3), 235–247. https://doi.org/10.1007/s10671-007-9018-x
Office for National Education Standards and Quality Assessment (ONESQA). (2017). ความเป็นมา [Background]. https://www.onesqa.or.th/th/profile/874/
Padubchiy, I. (2010). แนวทางพัฒนาคุณภาพการศึกษาตามมาตรฐานการศึกษาขั้นพื้
นฐานด้านการบริหารและการจัดการศึกษาของสถานศึกษาสังกัดสำนักงานเขตพื้นที่การศึกษาตาก [Pathways to develop educational quality according to the primary education standard pertaining to administration and management for schools under the Tak Educational Area Office 20. Journal of Education Khon Kaen University, 4(1), 86–93. https://so02.tci-thaijo.org/index.php/EDGKKUJ/article/view/50387/416
Quacquarelli Symonds. (2022). QS World University Rankings 2022. Top universities. https://www.topuniversities.com/university-rankings/world-university-rankings/2022
Saenpakdee D. (2016) ความสำคัญของการประกันคุณภาพการศึกษา [Importance of educational quality assurance]. https://sites.google.com/a/cas.ac.th/itsci/phaenkar-prakan-khunphaph /khwam-sakhay-khxng-kar-prakan-khunphaph-kar-suksa
Sathityaphong, N. (2018). การประกันคุณภาพโรงเรียนยุคการศึกษาประเทศไทย 4.0 และศตวรรษที่ 21 [Quality assurance in the school of Thai Education 4.0 and the 21st Century]. Journal of Education Studies, 46(3), 345–364. https://so02.tci-thaijo.org/index.php /EDUCU /article/view/148094
Thai PBS. (2018, January 18). เปิด 182 หลักสูตร 40 มหาวิทยาลัย สกอ. ระบุไม่ผ่านเกณฑ์ [Opened 182 courses, 40 universities, the Office of the Higher Education Commission, stated that they did not pass the criteria]. https://www.thaipbs.or.th/news/content/2694
Zaki, M. (2020). Academic quality assurance survey in higher education. International Journal of Higher Education, 9(6), 268–275. https://doi.org/10.5430/ijhe.v9n6p268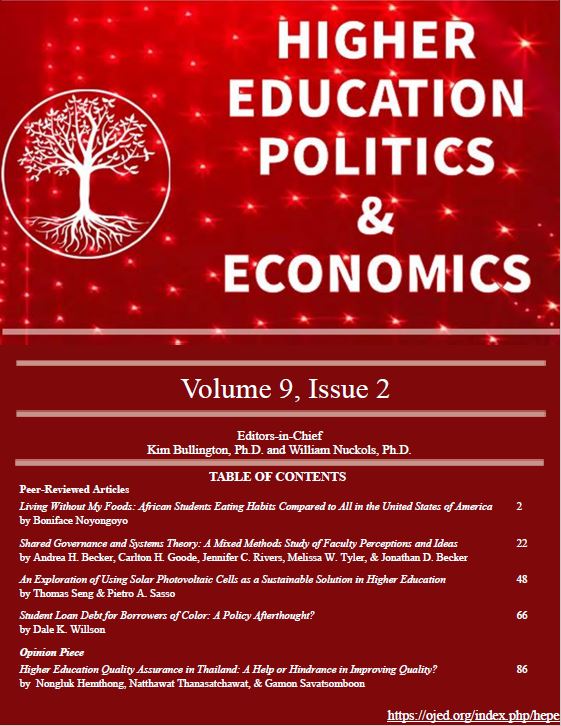 Downloads
How to Cite
Hemthong, N., Thanasatchawat, N. ., & Savatsomboon, G. . (2023). Educational Quality Assurance in Thailand: To Improve Quality or to Add a Burden? . Higher Education Politics and Economics, 9(2), 86–90. https://doi.org/10.32674/hepe.v9i2.5404
License
Copyright (c) 2023 Higher Education Politics and Economics
This work is licensed under a Creative Commons Attribution-NonCommercial-NoDerivatives 4.0 International License.
Unless otherwise noted, copyrights for the texts which comprise all issues of Higher Education Politics & Economics (HEPE) are held by the Journal. The compilation as a whole is Copyright © by HEPE, all rights reserved. Items published by HEPE may be freely shared among individuals, but they may NOT be republished in any medium without express written consent from the author(s) and advance notification of the HEPE editorial board. For permission to reprint articles published in the Journal, please contact the Editor-in-Chief.