Schooling and Education in Ghana: Research Conversations
Keywords:
Schooling, Education, Ghana
Downloads
Download data is not yet available.
References
Adu-Gyamfi, S., Donkoh, W. J., Addo, A. A. (2016). Educational reforms in Ghana: Past and present. Journal of Education and Human Development, 5 (3), 158-172
Aheto-Tsegah, C. (2011). Education in Ghana-Status and challenges. Commonwealth Education
Partnerships.
Daniel, G. F. (1997). The universities in Ghana. In S. Gash, The commonwealth universities year
book (pp. 649-656). Retrieved from
http://www.users.globalnet.co.uk/~univghana/ghanahed.htm
Darvas, P., & Balwanz, D. (2014). Basic education beyond the millennium development goals
in Ghana: How equity in service delivery affects educational and learning outcomes. The World Bank.
Effah, P., & Senadza, B. (2008). Ghana. In D. Teferra & & J. Knight, Higher education
in Africa: The international dimension, 208-237.
Goode, F. K. (2017). Approaches to Ghana's higher education challenges drawn from the U.S. community college model (Order No. 10687133). Available from ProQuest Dissertations & Theses Global. (1978528464).
Macrotrends (2021). Ghana literacy rates (2000-2021). Retrieved from https://www.macrotrends.net/countries/GHA/ghana/literacy-rate#
MacBeath, J. (2010). Living with the colonial legacy: The Ghana story. The Centre for Commonwealth Education.
Nudzor, H. P. (2014). An analytical review of education policy-making and implementation processes within the context of "Decentralized System of Administration" in Ghana. SAGE Open, 4(2), 1-11. https://doi.org/10.1177/2158244014530885
Sefa Dei, G., & Opini, B. M. (2007). Schooling in the context of difference: The challenge of post-colonial education in Ghana. In D. Thiessen & A. Cook-Sather (Ed.s), International handbook of student experience in elementary and secondary school (pp. 463-491). Springer.
United Nations Communications Group (UNCG) in Ghana and the CSO Platform on SDGs (2017). The Sustainable Development Goals (SDGs) in Ghana: Why they matter and how we can help. Retrieved from https://www.undp.org/.../ghana/.../UNCT-GH-SDGs-in-Ghana-Avocacy-Messages-201
United Nations Educational, Scientific and Cultural Organization (UNESCO) (2020). Literacy rate, adult total. Retrieved from Data for sustainable development goals. UNESCO Institute for Statistics website: http://uis.unesco.org/
Volckmann, R. (2012). Integral leadership and diversity—definitions, distinctions, and implications. Integral Leadership Review, 12(3), 1-21.
Yusif, H., Yussof, I., & Osman, Z. (2013). Public university entry in Ghana: Is it equitable? The
International Review of Education, 59(7)7-27. doi:10.1007/s11159-013-9331-y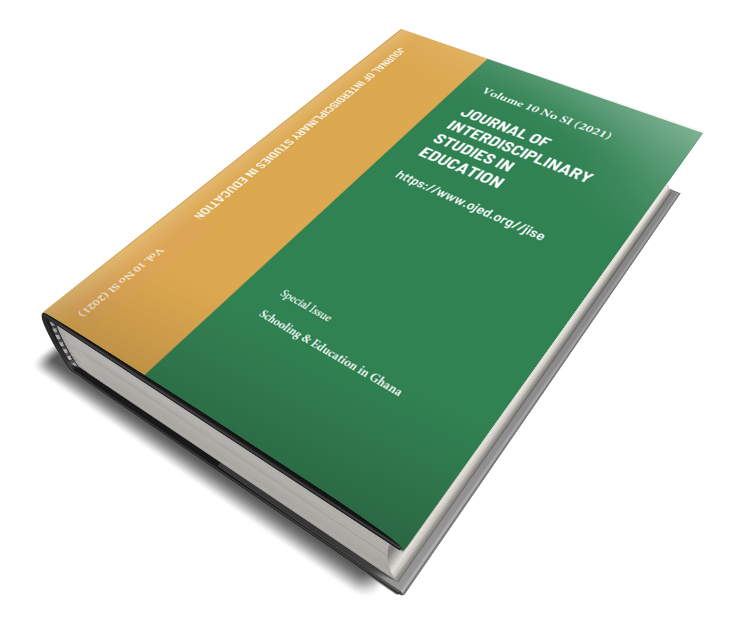 Additional Files
How to Cite
Amponash, S. ., & Kyei-Blankson, L. . (2021). Schooling and Education in Ghana: Research Conversations. Journal of Interdisciplinary Studies in Education, 10(SI), i-iv. Retrieved from https://ojed.org/index.php/jise/article/view/3751
License
Copyright (c) 2021 Journal of Interdisciplinary Studies in Education
This work is licensed under a Creative Commons Attribution-NonCommercial-NoDerivatives 4.0 International License.