Contributions of Multidisciplinary Peer Observation to Lecturers' Reflective Practices
Keywords:
Multidisciplinary peer observation, reflection, awareness, professional development
Abstract
The goals of this paper are to explain the extent to which multidisciplinary peer observation practices may improve reflection among lecturers concerning their pedagogical practices. and identify the kind of reflection it improves. In this sense, the paper presents a study with the objective of determining the importance that lecturers give to reflection upon their pedagogical practices as they are engaged in a multidisciplinary peer observation program. Data were collected through interviews and observation records. The results suggest a confirmation, among other aspects, of a commitment to a reflective discourse both in the work carried out by lecturers and as it concerns the pedagogical issues of their training.
Downloads
Download data is not yet available.
References
Bell, A., & Mladenovic, R. (2008). The Benefits of Peer Observation of Teaching for Tutor Development. Higher Education 55 (6): 735–752.
Bell, A. & Mladenovic, R. (2015). Situated learning, reflective practice and conceptual expansion. Teaching in Higher Education, 20(1): 24-36.
Boyd, P., & Harris, K. (2010). Becoming a university lecturer in teacher Education. Professional Development in Education. 36 (1-2), 9-24.
Cosh, J. (1998). Peer observation in higher education. Innovations in Education and Training International 35(2): 171-176.
De Vries, S., Jansen, E., & Van de Grift, W. (2013). Profiling teachers' continuing professional development and the relation with their beliefs about learning and teaching. Teaching and Teacher Education, 33, (2)78 – 89.
Dias, D. (2015). Has massification of higher education led to more equity. International Journal of Inclusive Education 19(2): 103-120.
Esteves, M. (2010). Sentidos da inovação pedagógica no ensino superior. In C. Leite, Sentidos da pedagogia no ensino superior (pp. 45-61). Porto: CIIE/Livpsic.
European Commission (2013). Report to the European Commission on Improving the quality of teaching and learning in Europe's higher education institutions. Luxembourg: Publications Office of the European Union
Giroux, H. (1988). Teachers as intellectual. London: Bergin and Garvey.
Hammersley-Fletcher, L. & Orsmond, P. (2005) Reflecting on reflective practices within peer observation. Studies in Higher Education, 30:2, 213-224.
Korthagen, F. (2010). Situated learning theory and the pedagogy of teacher education. Teaching and Teacher Education. 26 98–106
Lopes, A. (forthcoming 2019). Still building a better world? Research reflections on teacher education and identity. In Marta Kowalczuk-Waledziak, Alicja Korzeniecka-Bondar, & Wioleta Danilewicz (Eds.), Rethinking teacher education for the 21st Century: Trends, challenges, and new directions (ISBN 978-3-8474-2241-9). Opladen-Berlin-Toronto: Verlag Barbara Budrich.
Mouraz, A. & Pêgo, J.P. (2017). De par em par na U.Porto. Porto: Edições da Universidade do Porto.
O'Keefe, M., Lecouteur, A., Miller, J. & McGowan, U. (2009). The Colleague Development Program: a multidisciplinary program of peer observation partnerships. Medical Teacher, 31: 1060-1065.
Peel, D. (2005) Peer observation as a transformatory tool? , Teaching in Higher Education, 10:4, 489-504,
Pleschová, G., Simon, E., Quinlan, K., Murphy, J., Roxa, T. & Szabó, M. (2012) The Professionalisation of Academics as Teachers in Higher Education. Strasbourg. European Science Foundation (ESF).
Schön, D. (1987). Educating the reflective practitioner. San Francisco: Jossey-Bass.
Sullivan P., Buckle, A. Nicky G. & Atkinson, S. (2012). Peer observation of teaching as a faculty development tool. BMC Medical Education, 12:26
http://www.biomedcentral.com/1472-6920/12/26
Sousa, Rita Tavares de, Lopes, Amélia, & Boyd, Pete (2018). Research: An insight on how it is valued by Portuguese and English teacher educators. Teaching Education. Advance online publication. doi:10.1080/10476210.2018.1495704 Scopus
Torres, A. C; Lopes, A.; Valente J. & Mouraz, A. (2017): What catches the eye in class observation? Observers' perspectives in a multidisciplinary peer observation of teaching program, Teaching in Higher Education, DOI:10.1080/13562517.2017.1301907.
Vieira, F; Moreira, J A; Coelho da Silva, J.; Vieira, C; Gonçalves, S & Almeida, M. J (2017). Estruturas de apoio à reconfiguração das culturas pedagógicas no ensino superior. In P. Membiela Iglesia (Ed.), Nuevos desafios en la enseñanza superior / Novos desafios no ensino superior. Ourense, Espanha.
Williams, B & Carvalho, I (2010). Using the lamm classroom observation system. Joint International IGIP-SEFI Annual Conference 2010, Trnava, Slovakia
Zeichner, K. (1993). A formação reflexiva de professores: Ideias e práticas . Lisboa: Educa.
Zeichner, K. (2010). New epistemologies in teacher education. Revista Interuniversitaria de Formación del Profesorado, 68: 123-149.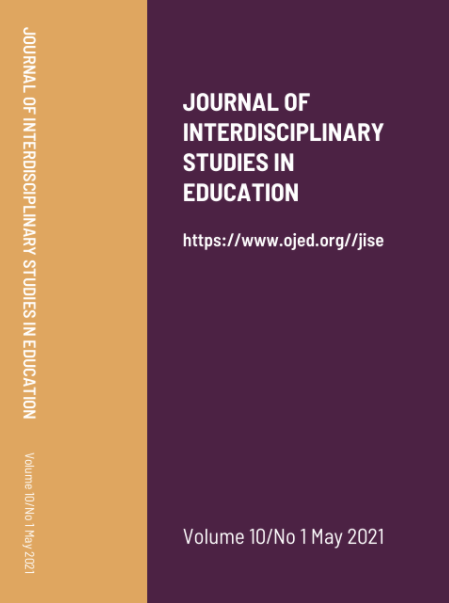 Additional Files
How to Cite
Mouraz, A., & Ferreira, I. . (2021). Contributions of Multidisciplinary Peer Observation to Lecturers' Reflective Practices . Journal of Interdisciplinary Studies in Education, 10(1), 41–58. Retrieved from https://ojed.org/index.php/jise/article/view/1369
License
Copyright (c) 2021 Journal of Interdisciplinary Studies in Education
This work is licensed under a Creative Commons Attribution-NonCommercial-NoDerivatives 4.0 International License.