The Self, the Other, and the International Student
Keywords:
Difference, identity creation, logic of opposition, perpetual journeys, personal transitions, relationships
Abstract
A sense of strangerhood, which is different from social isolation or cultural alienation, is common among many of the international students whom I encounter. In a world increasingly preoccupied with personal interaction and social exchange, many of these students perceive strangerhood as problematic and inherently negative. This brief reflection considers strangerhood from the perspective of Georg Simmel and argues that being a stranger has considerable positive value. Recognition of strangerhood is a critical element in developing a greater understanding of both the self and the Other. Legitimizing the experience of strangerhood, emphasizing its potential value, and empowering students to embrace it may provide significant short- and long-term benefits for international students in their personal and transformative journeys.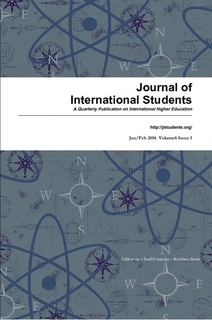 Downloads
How to Cite
Starr-Glass, D. (2016). The Self, the Other, and the International Student. Journal of International Students, 6(1), 314–318. https://doi.org/10.32674/jis.v6i1.572
Section
Cross-Border Narratives