Strategies to Enhance Student Success: A Discourse Analysis of Academic Advice in International Student Handbooks
Keywords:
international students, student handbook, student success, discourse analysis
Abstract
As the population of international students continues to rise at U.S. colleges and universities, multiple academic obstacles pose barriers to success. Research on strategies of intervention has primarily included face-to-face interactions while an exploration of other assistance approaches is minimal in comparison. This study explored the role that mediated discourse plays in supporting international students with navigating paths through U.S. colleges and universities, by examining seven institutions' assistance handbooks. Discourse analysis allowed for an in-depth investigation of the academic advice available to international students concerning classroom culture, instructional styles, relationships with instructors, assessment, and academic honesty.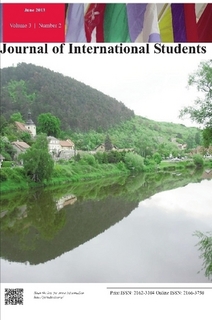 Downloads
How to Cite
Romerhausen, N. J. (2013). Strategies to Enhance Student Success: A Discourse Analysis of Academic Advice in International Student Handbooks. Journal of International Students, 3(2), 129–139. https://doi.org/10.32674/jis.v3i2.506
Section
Research Articles