Perceived Support as a Predictor of Acculturative Stress Among International Students in the United States
Keywords:
acculturative stress, international students, support
Abstract
A quantitative study was conducted to measure the acculturative stress of international students and investigate the predictors of acculturative stress. A total of 186 students participated in the survey. Results showed that 22.4% of the students in this study exceeded the normal stress level and might need counseling or psychological intervention. International students from the Middle East had a significantly higher level of acculturative stress than students from other areas. Perceived support from the university was identified as a significant negative predictor of acculturative stress. The results have important implications for educators and helping professions in higher education settings that serve international students.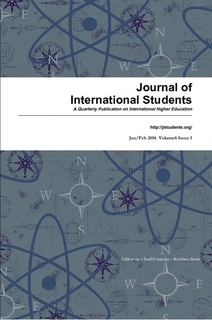 Downloads
How to Cite
Bai, J. (2016). Perceived Support as a Predictor of Acculturative Stress Among International Students in the United States. Journal of International Students, 6(1), 93–106. https://doi.org/10.32674/jis.v6i1.483
Section
Research Articles