Internationalization of tertiary education in the Middle East and North Africa
Abstract
This introductory chapter gives an overview of the current status of internationalization in the Middle East and North Africa (MENA) region. While internationalization is taking hold, it is happening unevenly, and the region as a whole is not the most attractive, neither for international students, nor for partnerships with institutions elsewhere. Yet internationalization – understood in its broader definition going beyond student mobility – holds many advantages and, especially given the region's socioeconomic context, MENA stands to benefit from enhancing it.
The chapter gives a detailed analysis of student mobility, as well as an overview on branch campuses and some examples of internationalization "at home". It finishes with reflections on the way forward for MENA, maintaining that internationalization ought to be further mainstreamed into its tertiary education systems, with a particular focus on internationalization "at home", which emerges as a key strategy for the region, even more so within the COVID-19 context.
Downloads
Download data is not yet available.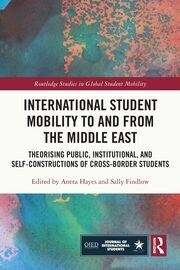 How to Cite
Marchesini, G., & Johnstone, H. (2021). Internationalization of tertiary education in the Middle East and North Africa. STAR Scholar Books. Retrieved from https://ojed.org/index.php/gsm/article/view/3542
Section
International Student Mobility in the Middle East (Completed)