Reexamining "Perfect" Attendance in Schools
Keywords:
COVID-19, student attendance, schools, truancy
Abstract
The COVID-19 emergency has created new challenges for schools regarding student attendance. The predominant practice of "perfect" attendance incentives in schools conflicts with new government policies regarding student self-quarantine due to the COVID-19 virus. School leaders must change their procedures and communication regarding student attendance to reflect these new conditions.
Downloads
Download data is not yet available.
References
Banerjee, R., King, E. M., Orazem, P. F., & Paterno, E. M. (2012). Student and teacher attendance: The role of shared goods in reducing absenteeism. Economics of Education Review, 31(5), 563–574. https://doi.org/10.1016/j.econedurev.2012.04.002
Black, A. T., Seder, R. C., & Kekahio, W. (2014). Review of research on student nonenrollment and chronic absenteeism: A report for the Pacific Region (REL 2015–054). U.S. Department of Education, Institute of Education Sciences, National Center for Education Evaluation and Regional Assistance, Regional Educational Laboratory Pacific. https://ies.ed.gov/ncee/edlabs/regions/pacific/pdf/REL_2014054.pdf
Camden, M. C., Price, V. A., & Ludwig, T. D. (2011). Reducing absenteeism and rescheduling among grocery store employees with point-contingent rewards. Journal of Organizational Behavior Management, 31(2), 140–149. https://doi.org/10.1080/01608061.2011.569194
Ely, T. L., & Fermanich, M. L. (2013). Learning to count: School finance formula methods and attendance-related student outcomes. Journal of Education Finance, 38(4), 343–369. https://www.jstor.org/stable/23597241
Freeman, R. R., & Grant, F. D. (1987). How we increased staff attendance by 16 percent and saved $156,000. American School Board Journal, 174(2), 31.
Gershenson, S. (2016). Linking teacher quality, student attendance, and student achievement. Education Finance and Policy, 11(2), 125–149. https://doi.org/10.1162/edfp_a_00180
Gottfried, M. A. (2010). Evaluating the relationship between student attendance and achievement in urban elementary and middle schools. American Educational Research Journal, 47(2), 434–465. https://doi.org/10.3102/0002831209350494
Gubler, T., Larkin, I., & Pierce, L. (2016). Motivational spillovers from awards: Crowding out in a multitasking environment. Organization Science, 27(2), 286–303. https://doi.org/10.1287/orsc.2016.1047
Joseph, N., Waymack, N., & Zielaski, D. (2014). Roll call: The importance of teacher attendance. National Council on Teacher Quality. https://files.eric.ed.gov/fulltext/ED556249.pdf
Kim, S. (2013, January 29). Postal worker retires after 44 years without sick day. ABC News. https://abcnews.go.com/blogs/business/2013/01/postal-worker-retires-after-44-years-without-sick-day
Liu, J., & Loeb, S. (2016). Going to school is optional: Schools need to engage students to increase their lifetime opportunities (Evidence speaks) [Report]. Brookings Institute. https://www.brookings.edu/research/going-to-school-is-optional-schools-need-to-engage-students-to-increase-their-lifetime-opportunities/
Markham, S. E., Scott, K. D., & McKee, G. H. (2002). Recognizing good attendance: A longitudinal, quasi-experimental field study. Personnel Psychology, 55(3), 639–660. https://doi.org/10.1111/j.1744-6570.2002.tb00124.x
Maynard, B. R., McCrea, K., Pigott, T. D., & Kelly, M. S. (2012). Indicated truancy interventions: Effects on school attendance among chronic truant students. Campbell Systematic Reviews, 8(1), 1–84. https://doi.org/10.4073/csr.2012.10
Reeves, J. (2015, October 2). After 35 years and no sick days, police officer Mike Flowers is finally retiring. Tuscaloosa News. https://www.tuscaloosanews.com/news/20151002/after-35-years-and-no-sick-days-police-officer-mike-flowers-is-finally-retiring
Robinson, C. D., Gallus, J., Lee, M. G., & Rogers, T. (in press). The demotivating effect (and unintended message) of awards. Organizational Behavior and Human Decision Processes. https://doi.org/10.1016/j.obhdp.2019.03.006
Robinson, C. D., Lee, M. G., Dearing, E., & Rogers, T. (2018). Reducing student absenteeism in the early grades by targeting parental beliefs. American Educational Research Journal, 55(6). https://doi.org/10.3102/0002831218772274
Taylor-Price, A. R. (2012). Effect of the teacher incentive pay program in the Center School District [Doctoral dissertation, Baker University]. http://www.bakeru.edu/images/pdf/SOE/EdD_Theses/Price_Angela.pdf
Walters, A. (2020). Inequities in access to education: Lessons from the COVID‐19 pandemic. Brown University Child and Adolescent Behavior Letter, 36(8), 8. https://doi.org/10.1002/cbl.30483
Young, S., Sollose, L. C., & Carey, J. P. (2020). Addressing chronic absenteeism in middle school: A cost-effective approach. Children & Schools, 42(2), 131–138. https://doi.org/10.1093/cs/cdaa009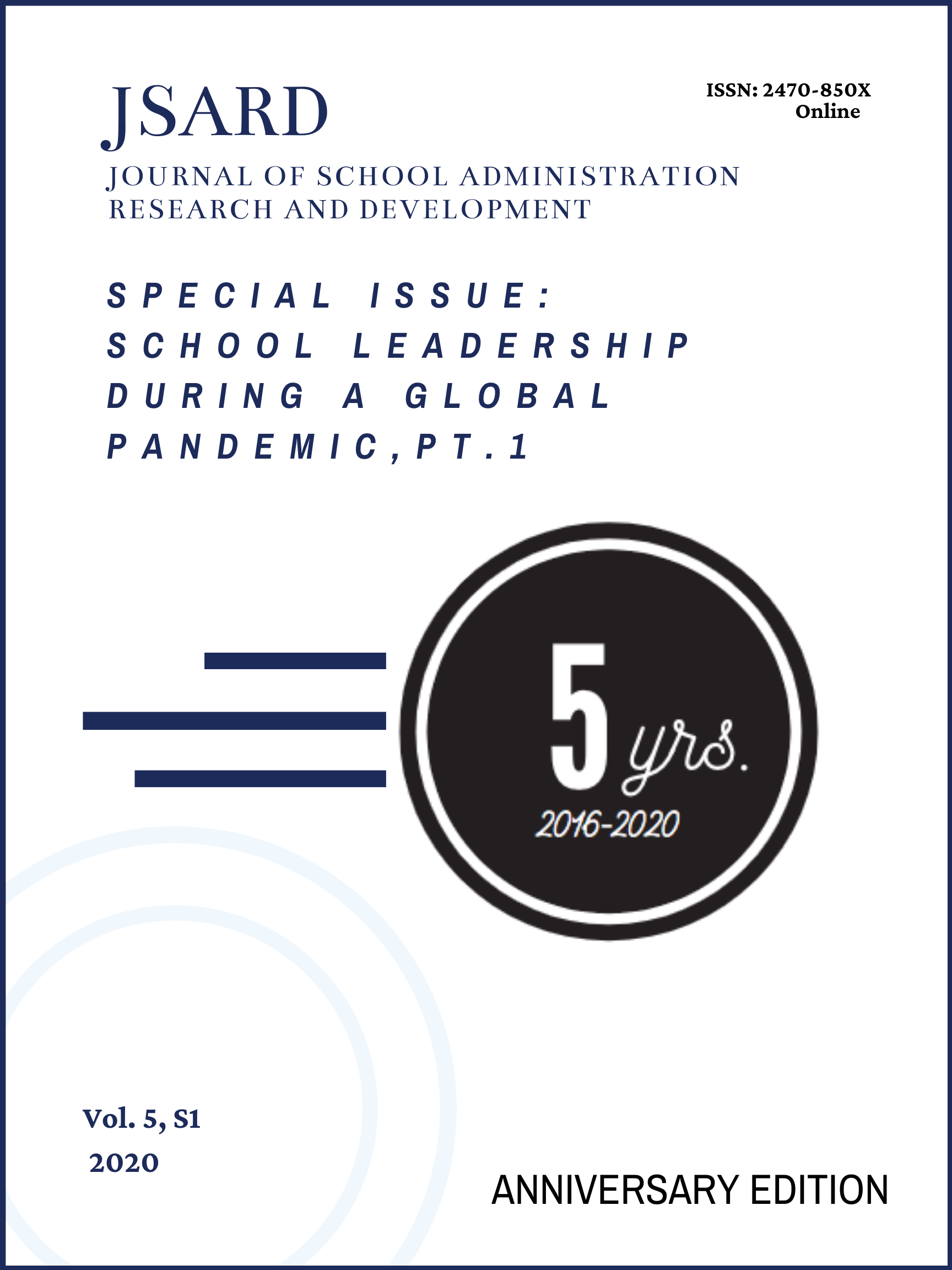 Downloads